About Us
About the Restaurant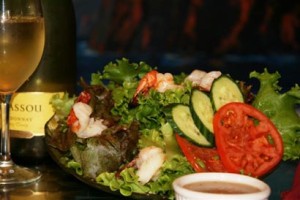 During the day, we offer you a casual, friendly atmosphere to take in the food or sip on a hot cup of coffee. If you are in a hurry, call anytime, and your food will be waiting for you when you arrive.
At night the restaurant is transformed into an intimate Italian Bistro with an enticing selection of appetizers, organic salads, pastas, pizzas, desserts, and a cappuccino to finish off the evening.
Come in today to see our daily specials.
Catering Services
Whether you are planning an intimate business luncheon or a lively family reunion, our restaurant can help you. We offer catering services for groups both large and small, so let us prepare our menu favorites for you and your event.
We require some advance notice prior to an event for the proper planning (we have been known to cater a Birthday for 60 people with less than 24 hours notice).
Contact our restaurant today to make arrangements for catering services.